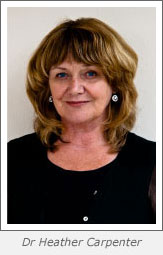 Dr Heather Carpenter is a careers and education consultant and counsellor with over 20 years' experience in education and private practice. Her PhD research is in Career Management and focused on identifying the effective career management skills that sustain career progress and satisfaction in the current employment environment. She is a specialist in career decision-making, and has been involved in designing and producing many career programs and resources; and in developing and writing programmes for tertiary institutions.
As well as maintaining her career business, she is also a facilitator, academic mentor and assessor for Capable NZ, a school within Otago Polytechnic. Her focus there is providing individual assistance for those undertaking degrees through assessment of prior learning, and within the Graduate Diploma and Masters of Professional Practice degrees which provide opportunities for completion via workplace projects. Heather is also the New Zealand trainer for the Self Directed Search assessment tool.
Her books, Your 21st Century Career – new paths to personal success (New Holland Publishers 2010, and The Career Maze – guiding your children towards a successful future' (New Holland Publishers July 2008) are used by career practitioners, schools and tertiary advisors, management and human resource professionals, as well as parents and the wider public.
Current interests include
Career decision-making tools
Career education for young people in 21st century skills eg collaboration, problem solving, teamwork and what it means to be 'professional'.
Professional Practice degrees via work-based learning
Research into work-based learning and synergies with career development, career confidence and professional identity
Heather Carpenter PhD.
BA, Dip Tchg, DipGuid, MCom (Hons)