Sale!
The Career Maze – Guiding your children towards a successful future
"Our job as parents and career practitioners is to help young people come to know their unique and individual selves well enough to choose the right paths to move forward into becoming competent adults they desire to be" (p13, The Career Maze.).
This book is a guide for parents to help their children build the foundations for early career choices, and lifelong career progress, giving practical ways to
grow aspirations, and self-belief – essential pre requisites for career confidence
help your child grow in self-knowledge- the key to choosing the career paths that create motivation, achievement and satisfaction
use simple exercises and strategies with your children to create real and helpful career conversations
learn how to lay the groundwork for future employability and resilience….
not rated
Add to basket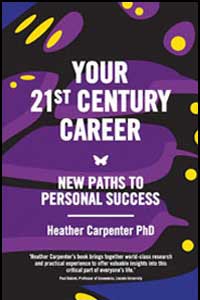 Your 21st Century Career
This book will help you get into work that suits you, and offer ways to keep yourself current, resilient, in touch with your career progress, as well as connected to your values and the way you want to live your life.
This is the career of the 21st century, and no matter your age and stage of life, there are learnings that can help you develop a happier and more satisfying career; simple understandings and strategies that allow you to find the path you want and work in a way that better suits you.
$

30.00
Add to basket
I Can Cards
These I Can cards are designed to strengthen career identity in young people who do not think they have any skills. They encourage skills conversations with students at risk – often young men – who are least likely to be able to talk about their dreams or name their skills. If they can't name their skills they don't think they have any!
These starter I Can cards describe the skills of a particular activity, and match associated qualities and learning skills required by the activity.
Use for one-to-one conversations, or group work around skills; to reinforce and validate existing skill development, what they already know how to do.
Use as posters, and encourage students/ groups to make their own around the activities they love.
This set is for the activities of Skateboarding, Surfing, Music and Mechanics.
not rated
$

60.00
Add to basket